Rollbit pros
1. Crypto trading welcome
It doubles as a crypto trading platform.
2. Bonuses
It offers exclusive bonuses.
3. Easy design
Easy-to-use gambling site.
Rollbit cons
1. Not safe for gambling
The "Rollbit Boss" encourages players to gamble more.
2. No fiat
You can only gamble in cryptocurrency.
3. Only a few cryptos
The only Cryptocurrencies accepted are Bitcoin, Litecoin, and Ethereum.
If you want to find out if there's more to Rollbit than just a juicy deposit bonus, then all you have to do is read this Rollbit review to the very end.
We'll be discussing everything you need to know about Rollbit casino, what makes it stand out, and whether it's the right crypto casino for you!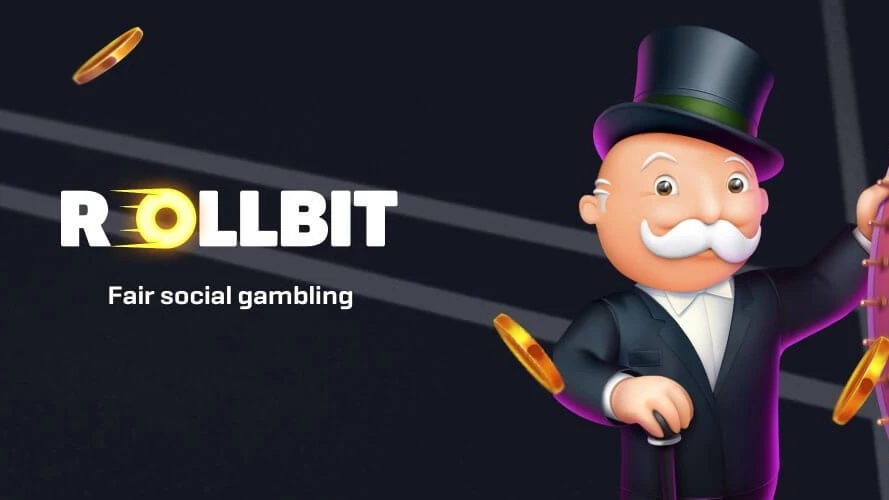 About Rollbit
Established in 2020, Rollbit has become one of the most popular online casinos in the world. This popularity comes as a result of their jack-of-all-trades characteristics. At Rollbit, you can gamble with cryptocurrency. But that's not all, as it is also a crypto trading platform.
As if that isn't enough, Rollbit also offers NFTs!
These offerings may seem too much for one casino to handle, which could raise suspicions regarding whether their services in each department are effective.
Not to worry, we've taken the time to analyze the essential features any good online casino should have. From our unbiased analysis, you'll be able to determine if Rollbit is worth the hype or not.
Let's expand on each feature one at a time!
Bonuses And Promotions
How good is an online casino if they can't offer their customers mouth-watering crypto casino bonuses and exciting promotions? The operators of Rollbit casino have asked themselves this question, and they have come up with the right answer!
They currently have four promotions for old and new players. These promotions are called the Rollbit Rewards Program, and they include level-up bonuses, rake backs, bonus battles, leaderboards, as well as other cashback.
Let's take a look at these offerings.
1. Rakeback
Every online casino has what we call the "house edge." This simply means the mathematical advantage that the casino has over their customers as they play overtime. The house edge ensures that the casino would make its returns and that the gamblers will also make a loss as they continue to bet.
Simply put, gamblers cannot win more than they lose (except in rare cases of jackpots). The good thing about Rollbit casino is that they offer their customers a 10% Rakeback. This means that you will get 10% of the house edge back on each bet.
Let's expand.
For instance, the house edge on double-zero roulette is around 5%. If you bet a hundred dollars on a round at a house edge of 5%, the casino is expected to make at least $5 on that particular bet.
However, with the Rollbit casino rake-back, you will receive $0.50 back. This implies that their house edge has been reduced by as much as 10% on every round you play.
2. Level And Rank Up Bonuses
The more you play Rollbit casino games, the better your chances of reaching higher levels. As you reach an upper level, Rollbit will give you 12.5% of the house edge for the stake needed to attain that level.
To add to that, they will also give you free coins as you reach higher levels.
They have what they call the "Rollbit Boss," and this term is used to describe a customer who has wagered the most money in a day. The lucky gambler gets a $5,000 payout!
The best part is the Rollbit Boss can withdraw the money instantly. They can also use it to wager on other games.
3. Daily, Weekly, and Monthly Cashbacks
What makes the Rollbit casino cashback so unique is that you can get 5% of the house edge back daily, weekly, and monthly. In total, that's 15% of your bets back!
For instance, let's say you wager $100 on the first day, you'll get 5% back the following day. By the 7th day, you'll get another 5% back and the final 5% back on the 30th day.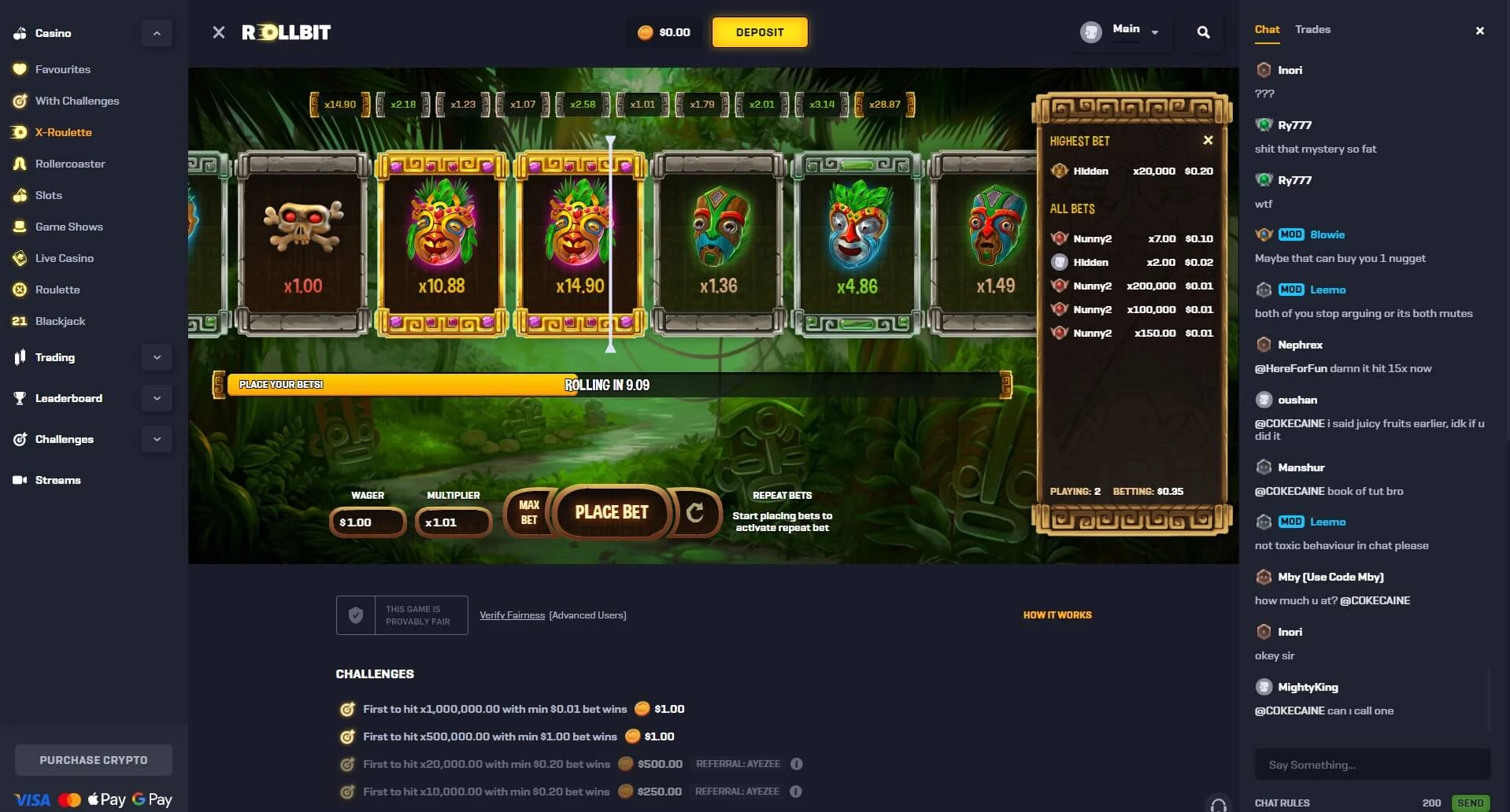 Rollbit Games
This Rollbit review cannot be complete without taking a look at the quality of provably fair games in their library. Without a good number of top-notch games, it is safe to say that a player's gaming experience will be poor.
To Rollbit's credit, they have a huge selection of games for their customers to enjoy. Everything from blackjack to x roulette and other table games are available on their site.
There's hardly a casino game you're looking for that you won't find on Rollbit casino. These games are also being provided by renowned game developers such as Evolution Gaming, NetEnt, and Microgaming.
Rollbit Slots
While most online casinos offer hundreds of slots, Rollbit offers as many as 3,500+ slots for you to try your hands on. This is great for players who like to experiment with as many options as possible.
Fruit Party 2, Jammin Jars 2, Juicy Fruits, The Dog House, Power Of Thor Megaways, and Razor Shark are among the many slots you can choose from.
Classic Games
Those who have experienced the thrills of live casinos will tell you how much they enjoyed playing classic games. If you're one of such people, then you'll be glad to hear that Rollbit casino offers those as well.
Their collection of classic games is very impressive, and it includes the likes of blackjack and roulette. That aside, you can also find games like baccarat when you search the bar at the upper-right corner of your screen.
There's more, Rollbit casino also has classic versions of less-popular games like Texas Hold'Em and Caribbean Hold'Em.
Live Games
Rollbit casino thought it wise to partner with some of the leading game developers in the world. These include Pragmatic Play and Evolution. The cutting-edge technology these developers possess has made it possible to provide live dealer games to the casino.
Similar to their slots, Rollbit's collection of live dealer games is also impressive. You can rest assured that you'll find all your favorites, such as blackjack, craps, roulette, and baccarat. You can also find other live games, including Deal Or No Deal, Mega Wheel, Football Studio, and Side Bet City.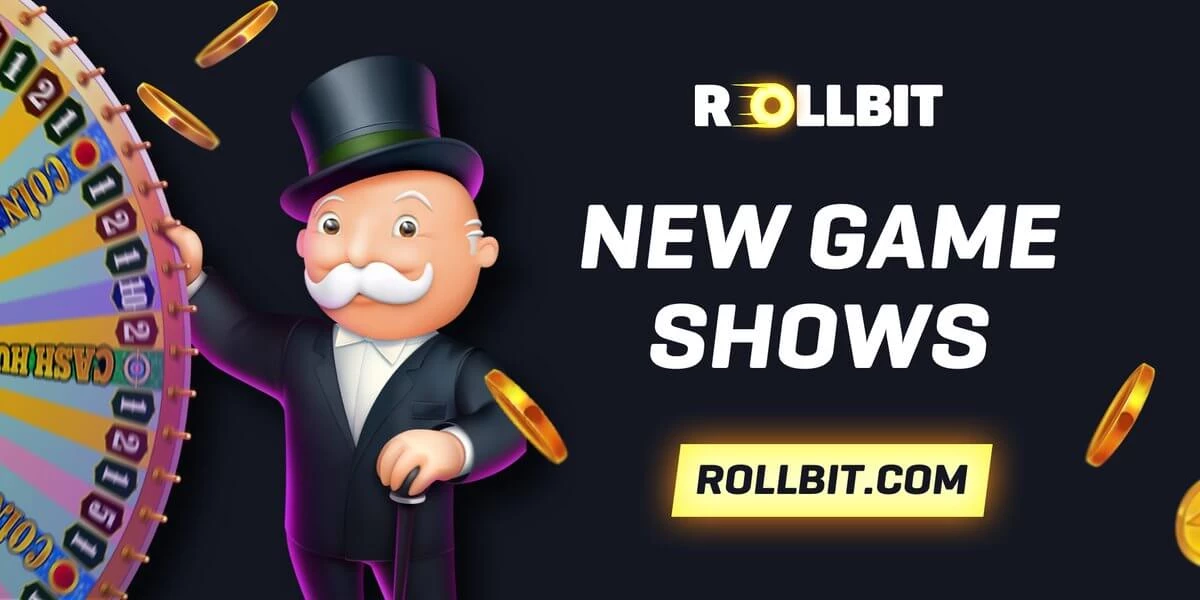 Games Providers
We have already spoken of how Rollbit casino has partnered with the best game developers in the world to give customers an excellent gaming experience. And as we all know, the quality of provably fair games in a casino library is a reflection of the companies that develop them.
Rollbit casino games are provided by the likes of Play'N Go, Evolution Gaming, Push Gaming, Pragmatic Play, Microgaming, and NetEnt.
Besides the well-known game developers, they also get games from PearFiction and Gameburger.
It is good enough that Rollbit is one of the best Bitcoin casinos around, but having such a wide variety of games from the best game developers only makes the hype more believable.
Rollbit Casino Payment Methods
As we have mentioned earlier, Rollbit is exclusively a cryptocurrency casino. This means that you can only gamble with Bitcoin and a few other altcoins. You cannot wager with fiat currency like the USD, GBP, CAD, or EUR.
This makes it unsuitable for gamblers who do not deal with cryptocurrency, as their payment methods are limited.
Deposit Methods
Since Rollbit casino doesn't accept fiat currency, payment methods are limited to Bitcoin, Litecoin, and Ethereum. Once you have made this deposit, you can begin wagering on your favorite casino games.
If you have no cryptocurrency, you'll have to first buy some from Rollbit's partner company, MoonPay, before you can play. You can use your Visa card, MasterCard, Apple Pay, or Google Pay to buy cryptocurrency from MoonPay.
We must commend the ease of use when it comes to making Bitcoin deposits with MoonPay. In this regard, Rollbit casino is one of the best Bitcoin casinos you can find.
However, we must also criticize the lack of wide cryptocurrency options on Rollbit. Bitcoin, Litecoin, and Ethereum aren't just enough, as there are users who prefer cryptos like Doge and Bitcoin Cash.
Withdrawals
No gambler wants to be inconvenienced when it's time to withdraw their winnings. Beating the house is hard enough, so why make withdrawals a discomfort?
To Rollbit's credit, they have made withdrawals as easy as possible. Even though they have no traditional payment method, their cryptocurrency withdrawals remain simple.
Once you have withdrawn your Litecoin, Bitcoin, or Ethereum, you can trade it for the fiat currency of your choice. To add to that, the processing time is fast since there is less paperwork to be done when compared to fiat currency withdrawals.
Another thing that might interest you is that there isn't any maximum withdrawal limit. You can withdraw as much cryptocurrency as you wish!
Rollbit Casino Customer Service
Rollbit casino has many upsides, but a wide selection of games and speedy withdrawals would be outdone if their customer support is terrible.
So how do they fare in this regard?
Well, you can reach any of their customer support representatives via email or live chat. From our research, we can tell you that both forms of communication have good response times. Not only that, but their customer support staff is also well-informed. They offer quick and practical solutions to whatever problems you are facing on their site.
Their live chat feature uses the Intercom platform, which uses bots and other applications to give users a better gambling experience.
Emails and live chats aside, they also have a thorough FAQs page, where customers can find answers to their questions. But as good as these customer support features are, it would be nice if they had phone support so that users can call and speak to an actual human.
Rollbit Casino License
Bull Gaming N.V is the owner and operator of Rollbit casino, and they have an outstanding reputation. Their registered address is Abraham de Veerstraat 9, Willemstad, Curacao, and their license number is 365/JAZ.
They are a fully licensed casino, so you can be confident that they will operate in the most ethical, responsible, and professional manner. You can also be assured that your cryptocurrency and personal information are safe from hackers and other forms of fraud.
It is worth mentioning that the gaming license doesn't cover the cryptocurrency trading platform of Rollbit casino. The reason for this is simple – trading cryptocurrency isn't a game.
Therefore, when you trade your cryptocurrency on their site, just have it at the back of your mind that you are doing so outside the jurisdiction of their gaming license.
You should also be aware that Rollbit casino's website doesn't offer any details regarding licenses that cover their cryptocurrency trading platform.
Conclusion
From the information provided in this Rollbit review, it would be fair to say that Rollbit casino is one of the best cryptocurrency casinos around.
The signup process is easy. They have a wide variety of games, their deposit bonus is attractive, and their customer service is top-notch. Additionally, they are fully licensed, which means your money and personal information are protected.
On the downside, this casino doesn't deal in fiat currency, which limits their deposit and withdrawal methods. They also have no phone contacts, making their customer support seem unnatural. However, they make up for it by providing an excellent support service.
Considering all these, we can agree that the pros outweigh the cons, and Rollbit might just be the right cryptocurrency casino for you!

FAQ
How Long Do Rollbit Withdrawals Take?
After your withdrawal details have been inputted, it will take less than 10 seconds for your wallet to be credited.
How Do I Contact Rollbit Customer Support?
You can contact their support team via live chat or email whenever you have an issue with the site's services. There's also a FAQ section with answers to gamblers' most asked questions. We advise you to look this up before contacting support.
Is Rollbit Legit?
Yes, they are legit. They are licensed by the Curacao Gaming Commission. Rollbit is built on a Provably Fair system, which allows you to verify the fairness of every outcome transparently. Hence, it's legit to say that Rollbit is a reliable online casino.