$10k Race Every 24 Hours
And $50k Weekly Giveaway
Wager to earn tickets into a giveaway where anybody can win. Just one ticket could see you sharing in $50,000 every single week
Stake.com is a cutting-edge gambling site that was launched in the year 2017. It provides both sports betting and online casino gaming services. There is an appealing new trend in the iGaming industry, crypto gaming, and this is what stake.com focuses on. As a result, Stake.com provides a diverse selection of the most popular cryptocurrencies.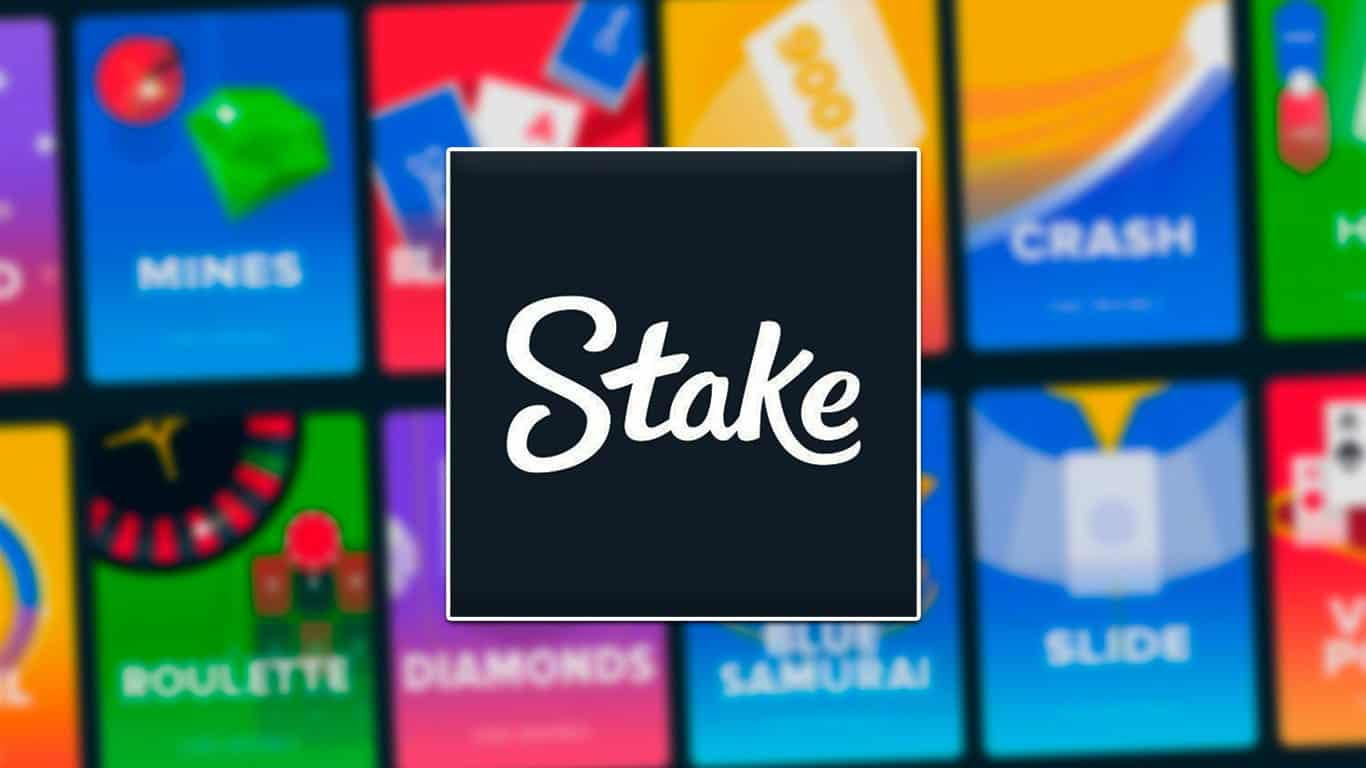 You have a variety of betting options and features to pick from, as well as some of the best casino games. Curacao has granted the operator a license, and it complies with the international security standard. The website is available in different languages and has excellent customer care.
Stake, similar to competitor Rollbit has several games available such as cards, dice, and unique games. At about 65 million bets, this cryptocurrency-based sports betting and gambling website allows its users to run an affiliate campaign.
We aim to avert fake reviews and give you the perfect review of this gaming website, ranging from its pros, cons, features, and how to navigate the site. However, before we show you this website's positive reviews and negative reviews, let us look at the pros and cons of using this sports and event betting platform.
PROS
This online crypto casino gaming website is well known for its very good reputation.
There is a two-factor authentication feature to secure your account that can be enabled.
This gaming website has excellent customer service to help you resolve your issues immediately.
CONS
Stake.com does not offer good odds on significant events betting odds, unlike some online casino that offers better and more competitive odds.
It is challenging to find restrictions, fees, and layout details as little information is given.
It is unavailable in most countries as registration is limited to some countries.
STAKE EXPLAINED
Founded in 2017 by the Medium Rare N.V., Stake is a gaming website based on cryptocurrencies. Over the few years since its inception, this sports betting and online casino gaming platform now has about 1,021 games available for you to play, and you can deposit with over 130 cryptocurrencies either on the site or using your cryptocurrency wallet.
This gaming website breaks all language barriers as players can interact in 8 different languages. In addition, several betting odds lets you bet on over 100 different outcomes on significant events. This platform is licensed by Curacao Gambling Authority and grants high returns to players.
Is Stake.com Legit?
Yes, it is a reputable online casino for big-time gaming today. You can be assured of a safe and secure gambling experience with Stake.com.
Furthermore, most Stake games are provably fair, ensuring random results. Some of the features that make Stake.com reputable and safe for gambling include;
Licensing
This gaming website has the eGaming Curacao License. When it comes to gambling sites that specialize in cryptocurrency, this license is the standard. This is because cryptocurrency is still new in the online gambling industry, and as such, no crypto gambling site has been granted a more reputable licensing.
Safety
Stake.com has no recorded issues when it comes to safety, and with the presence of the Two Factor Authentication feature, it offers adequate protection of your account.
The platform is also verified as a member of the Crypto gambling foundation. Therefore, all the games on the platform are provably fair. In addition, you can confirm bets on this platform or third-party websites with an open-source verification system, thereby providing you with relax gaming experience.
Reputation
Stake casino is well-known and has an excellent reputation. Stake.com was created by the same team that created Primedice, one of the most famous and popular dice gambling sites. You'll mostly find a positive review of the stake casino online.
In addition, stake gambling has a positive reputation on forums such as BitcoinTalk, where gamers enthusiastically suggest other players' services. This reputation makes it an honest casino for online gaming.
Restricted Countries
It will also be great to let you know that Stake.com is unavailable in all countries. There are some countries where this platform is prohibited. These countries include; Czech Republic, Netherlands, United Kingdom, United States, Italy, Portugal, Slovakia, Syria, Curaçao, Iran, North Korea, Serbia, Aland Islands, Australia, Poland, Turkey, France. This means that you will not be allowed to gamble on this platform if you live in any of the countries mentioned above.
Stake Casino Key Features
Stake.com, one of the reputable online casinos, was founded in the year 2017 and has the eGaming Curacao license. Since its inception, the platform has built a significant user base in just a few years.
Using this platform is relatively easy. All you need to do is head over to the website and open an account. After opening and setting up your account, you can move to the category you prefer to stake your games.
Stake.com has several categories that anyone can choose from. These categories include; Slots, Live Casino, Game Shows, Jackpot Slots, Feature Buy-in, Table Games, Virtual Games, Blackjack, Baccarat, and Roulette. In addition, you can see several titles and games from different providers in each category.
Each category has an abundance of titles and games from various providers on an individual level. In addition to this, this platform also has 16 of its original games, and they are all provably fair games.
These Stake games include Dice, Keno, Limbo, Plinko, Mines, Hilo, Crash, Scarab Spin, Diamonds, Blue Samurai, Wheel, Slide, Blackjack, Video Poker, Roulette, and Baccarat. In general, there are over 1,000 Stake games by more than 25 providers that you can play.
The Lightning series, Deal or No Deal Live, Caribbean Stud Poker, Crazy Time, and Texas Hold'em Bonus Poker are all available from Evolution Gaming, where Stake receives all of its Live Casino games.
This platform incorporates good graphics into its games to make your gaming experience an awesome one.
Stake.com's extensive selection means that even if you're seeking games that aren't as well-known as the most famous, you won't be disappointed. Overall, the casino has one of the most extensive game collections in the online gaming market.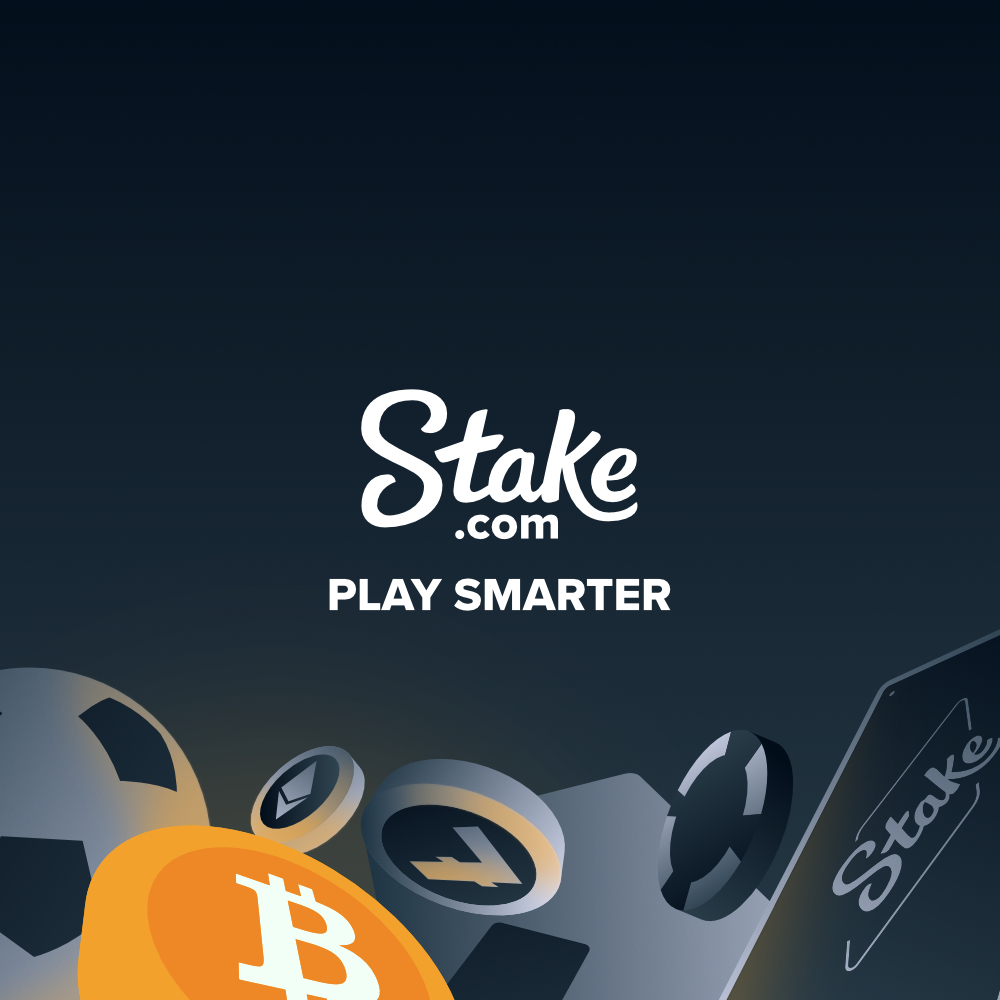 Stake Betting Features
If you are a sports betting lover, you can utilize the stake betting offerings. These offerings include different sports events, top leagues, and even political events and entertainment.
Some of the sports events that you can bet on include American football, baseball, boxing, golf, tennis, volleyball, MMA, racing, and more. The esports include Counter-Strike, Dota 2, League of Legends, StarCraft, and various other electronic leagues.
You will also find odds on sports that are not so popular, such as Gaelic Football, Gaelic Hurling, and Floorball.
You can also bet on the results of presidential elections throughout the world, sports stars of the year, and various other bets on this platform. There are several outcomes of events that you can bet on, and these varying events distinguish stake casino from others.
Stake Poker Features
The only poker option available on this platform is video poker.
How To Register
To opt into this platform, click on the "Register" button at the top of the website and then proceed to enter your email, username, and password. After registration, you can click on the "Play now" button to complete the procedure.
This procedure is simple and does not take much time to complete. You can then enter the cashier and choose your stake cryptocurrency after creating the account.
The platform is also easy to navigate. The site design is simple, but it has the limitation of not providing enough information to its users. For example, there isn't much information about the history, background, limits, restrictions, fees, and payout details. But as a newbie, you can easily navigate this website without any problems.
Design and appearance
The design and appearance of this platform are one you would love as a user. For example, you will not experience excessive pop-ups or promotional banners that will affect you. Moreover, the animations are not much, and with the dark theme, users will feel more comfortable spending hours on this website.
The graphics in the game are standard, and the design provides only what you require for a fantastic gambling experience. Functionally, this online gambling platform is quick. The games load quickly, and its offerings also run on Adobe Flash. You can easily access the website's section, and with the search bar at the top, you can search for anything you need on the website.
Stake.com doesn't have a mobile application, but the web version works well on mobiles.
Forums
There is also a blog that provides you with all the latest news and updates about the Stake crypto casino., answers all the questions, and gives users tips on maximizing the platform.
Even as a newbie, Stake.com has a forum with 500 to 800 users available and online. This forum can help you whenever you have any issues. You can connect with users on this platform, and the community is permanently active.
Gambling Aware Program
For those who have become addicted to gambling, Stake has measures put in place to help you overcome it, such as;
A tool that allows you set deposit limits
A gamble-aware link is present on the site. You can find this at the footer of the website.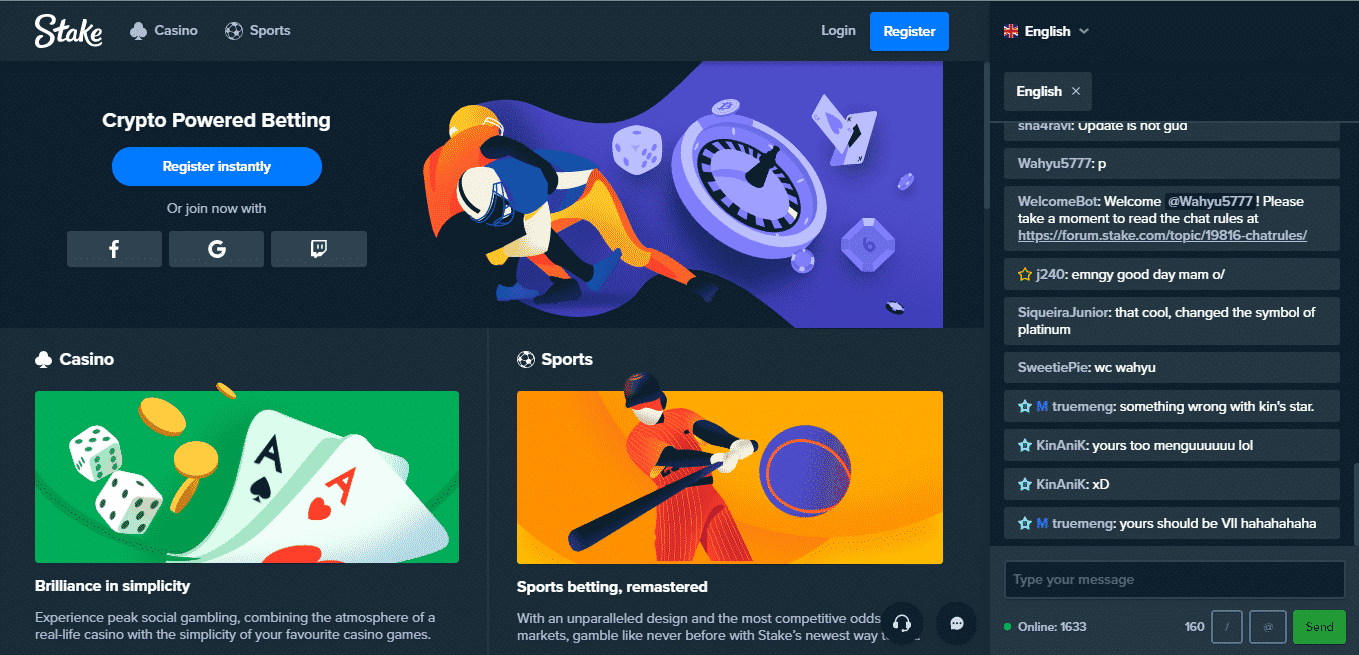 Bonuses
There is a welcome bonus on stake.com, and users are compensated with rewards through their promotions.
There are different promotions on this platform, such as an opportunity to win a Lamborghini Huracan Evo, money-back programs, special promotions, telegram challenges, and more. Therefore, it is essential to always check the promotions pages to be up-to-date on the available upgrades. Furthermore, the terms and conditions of attaining this promotion are also easy to achieve.
As a user, you can also obtain free bets and free spins on this site using the bonus code.
One other thing to note is this platform's weekly and monthly bonuses. As a VIP member, you'll be given a dedicated VIP host along with monthly and weekly bonuses. The monthly bonuses are funds sent to lucky players once every month and can be gotten by elite players who have accounts in good standing with verified emails.
Customer Service
Stake.com has great customer service that you can reach through the chat feature present on the site. The customer support service via the Live Chat function is available 24/7 and has an average response time of five minutes. The customer support representatives are well-knowledgeable, you can be sure to get solutions to all your concerns.
Although there are no direct phone numbers to contact them, you can also contact the team through their social media handles; Facebook, Twitter, and Instagram.
Payment options.
Apart from other online casino sites with several deposit methods, Stake.com accepts only cryptocurrencies. You can buy crypto directly on the platform with fiat (USD and EUR)
However, Stake.com recently launched a deposit method that allows you to buy crypto with fiat (USD and EUR) directly on the platform.
Using this deposit method may not be the best way of depositing because the rates are higher than the traditional exchanges. However, you can buy crypto from other crypto exchange platforms and transfer it to this platform to cut costs.
This means the best thing to do before getting started with the Stake crypto casino is to buy some of the supported crypto assets elsewhere and transfer them to the platform through your cryptocurrency wallets.
The method available on the platform is through Cryptocurrencies (BTC, Bitcoin cash. ETH, LTC, DOGE, BCH, XRP, TRX, EOS). There are other cryptocurrencies, too, that are not mentioned here.
Stake.com integrates with Coinswitch API to allow users to deposit over 130 cryptocurrencies. Depositing into this platform is simple and does not take time. Although there may be a pending time, it is usually within minutes. All you have to do is choose the assets you want to exchange from the drop-down lists.
How can withdrawal be made?
Withdrawals are easy too and available as cryptocurrencies. This means that users of this platform can only withdraw funds to their cryptocurrency wallets. In addition, there are no maximum payout limits fees charged for each payout option.
One beautiful thing about Stake.com is that there are no delays regarding deposits and withdrawals. Instead, payments are instant, and once the different blockchains confirm your payment, your money will be sent to your crypto wallet.
These are all the features that make this crypto gambling platform a good choice.
Frequently Asked Questions
Is Stake.com legit and safe?
Yes. Stake.com is legit and safe. The Curacao gambling authority licenses it, and it is also a verified member of the Crypto Gambling foundation. Moreover, there is two-factor authentication that makes your account protected and secure.
Are there other deposit and withdrawal methods available on Stake.com?
Stake.com is a crypto-only casino and does not accept any other means of payment apart from cryptocurrencies. There are over 130 cryptocurrencies to choose from, and it is easy to withdraw and deposit funds on this crypto gambling site.
Can I win real money on Stake?
The main aim of Stake is to enable you to make money by staking your crypto on several sports and outcomes and earning interest rates. In addition, you can earn a considerable percentage yearly on Stake.com by placing bets on the results of these events.
What's the minimum deposit on Stake.com?
Yes. Stake allows a minimum deposit of $10. This means that you should deposit at least $10 into your stake account for you to begin playing.